There is only one way to confidently pass a hair follicle drug test these days, and it's with something called the Old Style Aloe Rid Detox Shampoo, and it's sold by a company called Test Clear.  Today I'm going to share a full review with you of the product, the process, and the company.
What is Old Style Aloe Rid Detox Shampoo?
This used to be called "Nexxus Aloe Rid," but now it's called Old Style Aloe Rid.  I've been following this space ever since Cannabis started becoming legal, because let's face it, while you can legally consume Cannabis products in many States in the USA, you still need to be functioning (aka not presumed "high") at a job site, and companies that hire people to operate heavy machinery and equipment are prone to having to take drug tests proving that they aren't using marijuana.
Aloe Rid is a shampoo that is designed to detox your hair follicles of any trace of drug use.  Back in earlier times, this was something you couldn't obtain unless you knew someone who owned a hair salon and was buying this for other reasons.  Further in this Aloe Rid Shampoo review you'll learn why it's the best detox shampoo of 2018.
History of Hair Drug Testing Methods
While companies have been testing people for drugs for a very long time, the most useful, informative way to find out if someone is clean is to test their hair follicles.  Science shows that these types of tests can find THC in your hair dating back many months.  While the occasional toke MAY NOT be traced, if there was ever any consistent (more than once a week) use, it's very likely that it'll be found and that you will fail the hair follicle test.
In related content, I've written about the Macujo Method, which is very labor intensive and requires you to apply stuff like Vinegar and laundry detergent to your hair several times.  Who wants to do that?  Besides, the big secret of this method is that it recommends the exact shampoo I'm reviewing today!  (You don't need to make a mess in your kitchen and waste laundry detergent along the way!)
There is also the Jerry G method of passing, which requires a lot of bleach, ammonia, and way too much time handling those two toxic ingredients for my blood.
Sure, those methods of passing a hair follicle test have worked for many people, but when you want results coupled with simplicity, there is nothing better than Aloe Rid Detox Shampoo.
Don't fall for any of the knock-offs with similar names that are being sold at the local convenience stores or national chain stores.  Those do NOT have the same potency nor will they penetrate your hair follicles the way Old Style Aloe Rid will.  The real detox shampoo is only sold at TestClear.com.
Why Is Old Style Aloe Rid the Best Detox Shampoo?
With a blend of active ingredients that are second to none, it's no secret anymore that this is what people turn to when their potential job is on the line.  The sources of these ingredients are what really makes Old Style special, because nobody has been able to replicate this detox shampoo – but many have tried.
Aloe Toxin Rid works because it actually clears away the drug metabolites from your hair. 
You use this in tandem with Ultra Clean Shampoo, you'll notice that at checkout.  You do need both if you are going to do it the way they recommend, but if you are following some other method that is requiring you to just buy Old Style Aloe Rid Shampoo, then by all means, go with what you believe in.  I'm just speaking from the people I know who use Aloe Rid with Ultra Clean, and it's the best 1-2 punch out there.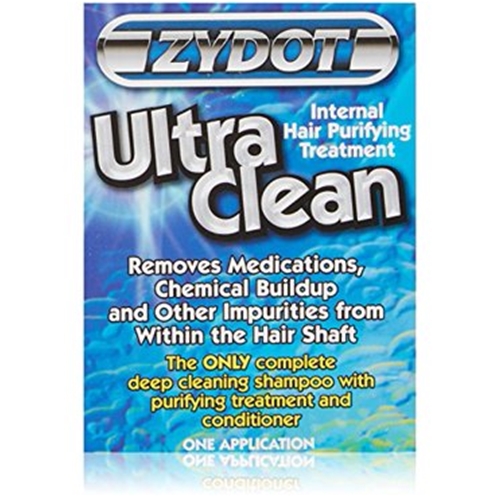 Directions for Use:
Use the Old Style Aloe Toxin Rid daily prior to your testing.
On the day of your test, use Ultra Clean Shampoo.
Usage Tips:
It's best to start 3-10 days prior to your test.  If you find yourself with less time, take as many as four showers per day.
Leave the shampoo in your hair for 10 to 15 minutes each time you wash it.  Let it fully absorb and rest.
Try to use the shampoo a minimum of 15 times for best results.
This will leave you with the best possible chance to get rid of the traces of THC and drugs in your hair.
A guideline provided on the Test Clear Website goes like this:
Use the Normal Shampoo you use regularly.
Rinse.
Use Old Style Aloe Toxin Rid (size of a dime on your fingertips)
Soak 10-15 minutes.
Rinse.
Use Regular Conditioner.
It's worth noting that this deep cleanse will not damage your hair, yet it will remove build-up residue in healthy manner.  You'll also benefit from removing pollutants from the environment, chemicals, hard water minerals, chlorine, and any other damaging elements that have been built up.
This is what you'll see on the TestClear.com site.
You'll see that there are many Test Clear Reviews on their site singing praise for this detox shampoo.  Here is a sampling of the latest ones I saw in the Spring of 2018.
TestClear.com Website Review & Reputation
Any time I'm looking at buying products from someone that I hadn't heard of previously, I always tend to do a bit of homework prior to slapping down my credit card.  The Test Clear reviews I read online were all very positive, and many big sites that cover the Cannabis industry all rave about the drug testing products they sell.
In addition to selling the Aloe Rid Shampoo, they also offer a huge variety of other products that are meant to help people pass drug tests.
Other products sold by Test Clear Include:
How to Pass a Urine Test – including job drug test, supervised drug test, and insurance drug test. 
Pass a Saliva Drug Test
Pass a Drug Blood Test
Drug Testing Kits – amphetamines, cocaine, ecstasy, barbituates, oxycodone, steroids, and more.
They also offer pregnancy and paternity testing stuff, hangover cures, and more.  Check out the full selection at TestClear.com.
Upon looking them up, there are many that are VERY popular on drug testing tips websites.  I really haven't found a dissatisfied customer, and I've looked high and low.