Today we give you a general brand overview of Murad.  Individual product reviews can be found in other parts of our website.
Information on the Murad Product Line

Murad is Dr. Howard Murad, M.D. and his son Jeff Murad VP of New Product Development. The company is based in El Segundo, California, U.S.A. where the corporate offices and the inclusive health spa & medical group are located. The first retail shop is located in Los Angeles while there are other shops located all over the United States.
Dr. Murad and his company have been awarded numerous prizes since 2000, including a humanitarian award for the development of the Murad after school program in 2003. Most of these accolades originated from magazines and newspapers but some of them originate from very respectable organizations like the International Congress of Esthetics.
Get a FREE Deluxe Gift With Purchase when you spend $65+ at Murad.com! Use code: DUO (Valid 1/3 – 1/31)
It is most notable that Dr. Murad will have an award named after him. The 2015 prize of the Aesthetic Show will be called Howard Murad Aesthetic Visionary Award. This, by itself, constitutes a recognition of a lifetime achievement and could not have been given to someone that has not been a top class researcher and developer.
Dr. Murad also holds 12 patents for products he developed, which re-enforces the previous statement.
Murad – The Products
First of all we must start with the signature treatments offered at spas and salons.
There are 10 such treatments addressing different issues:
1. Intensive Wrinkle Reducer Rapid Peel
Murad Intensive Wrinkle Reducer Rapid Peel
2. Illuminating Peel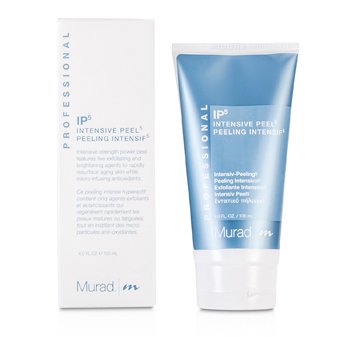 Murad Professional IP5 Intensive Peel 5
3. Rapid exfoliator facial
4. Acne facial
Murad Acne Cleansers
5. Vitamin C infusion facial sun corrector
Murad Essential C Moisturizer
6. Facial for Redness
Murad Redness Therapy Regimen
7. Treatment for firm and tone body
Murad Firm and Tone Regimen
8. Pore cleansing facial
Murad Daily Cleansing Foam
9. HydroDynamic moisture infusion facial
Murad Hydo-Dynamic Mositurizing Duo
10. Resurgence renewal facial
Murad Resurgence Complete Skincare Regimen
Related Content:
The products available to the general public are:
Cleansers

Moisturizers

Acne relief

Resurgence

Eye care

Masques

Body Care

Dark Spots

Anti-aging

Anti-wrinkle
The products are considered as moderately priced and the best sellers are from the cleansing category.
Doing business
Murad sells to spas, physicians, salons and other professionals as a priority. The products available to the general public are sold either through their online store, or through their own retail stores or through major department stores. In contrast to other companies they take great care into the problem of unauthorized retailers.
Save up to 50% on final clearance items at Murad.com! Shop now!
On their site they have posted a list of such retailers mentioning that they will not honor any warranties to products that have been bought by shops mentioned on that list. While this is definitely a step to the right direction to protect the brand name, some more aggressive measures may have to be taken as not everyone is paying attention to postings on a website.
An innovative feature is the personalized skincare service, which affords the right to everyone to receive a skincare product that would specifically address their own skin condition. This is a definitely a service that should be included in the services of all cosmetic companies.
What do people think?
Murad is one of the few companies that does not have customer reviews only. It also has reviews by doctors and esthetic specialists. To begin with what the professionals think, their reviews focus of the fact the Dr. Murad is a practicing dermatologist that formulates products through a holistic approach towards the various skin problems, rather than addressing each issue individually. According to them this is an advantage as it allows him to work through the big picture and not the details.
Since it appears that Murad is a company of surprises, the customer reviews could not deviate. Here we do have negative reviews. But these reviews do not pertain to a product being effective or not. They pertain to either a product being entirely successful or a product being a complete failure.
For example the Murad Pure Skin Clarifying Dietary Supplement could not have better reviews, but one of their pigment lightening serums has no positive reviews at all.
It could be said that the overall rating for customer satisfaction, ease of use and product support is in the range of 3.7/5 i.e. a little above the average.
Free Shipping with any $50+ Purchase at Murad.com!
Conclusion
It seems strange that a company that has been around for many years, has been awarded so many prizes and led by a recognized scientist, can release out on the public products that are of bad quality. Yet it looks like that this is the case and it also looks like Murad has serious issues with quality control.
Murad is a brand name. All brand names, from time to time need some new faces and some new minds to take over and carry on to the next term. It is likely that Dr. Murad may be a magnificent scientist and a great entrepreneur but even the best get tired after a while and require a change.
May be it is well past the time that Dr. Murad retired at least from running the company and focus on creating products that will not attract reviews of complete failure. That is what he is good at and that is where he should focus his efforts for the future. And let someone else take over administration and quality control, otherwise the brand name will suffer and start deteriorating. Rapidly.