You're going to think that I sound crazy but I'm telling the truth. A blackhead in ear issue is a common pain! In fact, it happens more often than you think. Sometimes there's no getting around it. Heck, I bet even Justin Bieber who has a crazy skin care routine gets them in his ears (on rare occasions).
What's probably the most important thing to understand here is that when you have a blackhead in your ear that you cannot avoid taking action to get rid of it. Do not ignore this type of blackhead. Granted, it's an awkward area to get blackheads but you need to take action to remove them if you want healthier looking skin.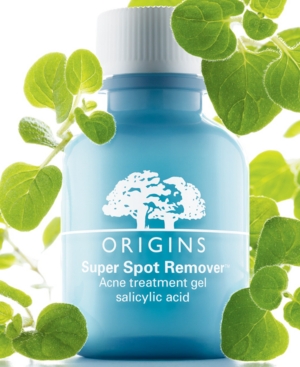 Check This Out Origins Super Spot Remover
It's a very tricky blackhead spot and it's not as uncommon as you think. Getting rid of an ear blackhead is doable, but you need to know how to approach the situation. Good news for you, I've got the process laid out in various steps to make things easy for you to understand.

Blackhead In Ear Issues And How To Resolve Them
Before I get started with sharing the process to remove blackheads from your ear, I want to share a few things with you. The first thing I want you to understand is that getting a blackhead in your ear does not mean that you have poor hygiene. All that it could mean is that you've got large pores in your ears. It also likely means that you produce a significant amount of oil in that region which causes buildup. Don't worry, I'm going to help you better control all that.
Another thing you must understand is that blackheads typically do not disappear on their own. Your body can cope with them being present for years, which is why you don't need to get rid of them. However, it's always best to try and get rid of them whenever possible.
One final thing you need to know about blackheads in general. It's quite common for them to come back from time to time if you don't consistently try to keep the area free from them.
Last but not least, I want you to understand that you can get rid of them for good if you do the right things. Some people are fine with living with ugly blackheads. I'm telling you that taking that approach is the worst idea ever! You must try to get rid of them!
Be Consistent
Some people don't have any idea what it takes to get rid of blackheads in your ear. I'm going to tell you the secret to getting rid of these location-specific blackheads. You need to incorporate an acid such as glycolic acid or salicylic acid. The best one to use for ear blackheads is the glycolic acid. We talked about this treatment and have mentioned how effective it is as well as other products are on the market that can clear up your skin condition rather quickly.
Here are the specific steps to take if you want to get rid of blackheads in your ear. Your best best is to find a glycolic acid containing product that is rather strong but light enough to use on a regular basis. You'll need to incorporate this into your daily routine, so it must be sensitive enough to not cause too much damage if used daily.
Here Are The Exact Steps
The first step to take is to make sure your ears are clean. You can do this by simply applying a warm washcloth to your ear followed by drying it completely. Before doing anything else, you'll want to make sure your ear is completely dry or it will dilute the glycolic solution you'll be applying.
Next step is to apply glycolic acid to a q-tip or cotton swab and apply it to your ear. Be sure to not get any of the acid in your ear canal. It's a sensitive area that you won't want to damage.
Leave the glycolic acid swab on the affected area for a period of roughly ten seconds. Following that step, you'll want to rinse your ear using cold water and a cotton swab. Immediately following, dry your ear.
That's all there is to it! I'd suggest that you pay close attention to your ears and observe whether or not they become red and/or irritated. Any irritation that occurs should not be ignored. Seek professional help if things get worse.
Expect Results
You should expect positive results from this action. The results should be noticeable in just 7 to 10 days. What's most important here is that you remain consistent with your daily glycolic acid routine. I guarantee that you'll have great results in 30 days if you continue to treat the problem.
Extracting Blackheads
If your plan is to extract a blackhead in ear then you need to remember that doing so is merely the first step in fixing the issue. There's a strong possibility that whatever pore you've extracted that blackhead from will once again become clogged. That's why it's crucial to try and follow the daily cleansing routine for best results. In the event that you want to remove the blackhead, you should only do so using a tool that's built for such a task.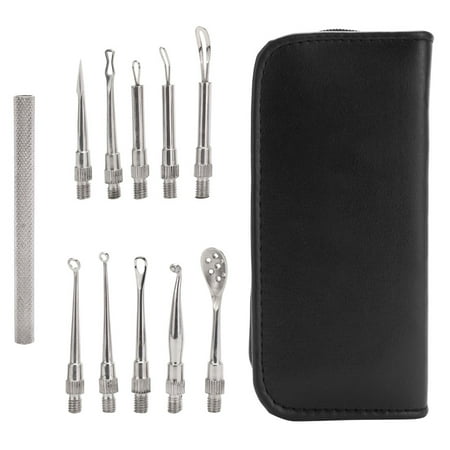 Stainless Steel Extractor Lancet 11Pc Blemish Removal Kit
Some More Advice
Here's some more advice if you're dealing with a blackhead in ear issue. If you have long hair, try to keep it behind your ears. Keep your dirty fingers out of your ears at all times. Never use your fingernails to scratch your blackhead. If you wear headphones at the gym or on a daily basis, make sure you clean them regularly with alcohol. It's also important to always clean your ears after a workout. These simple tips should help you with any blackhead in your ear. Try some of the things that I've mentioned above and when all else fails, seek professional help.